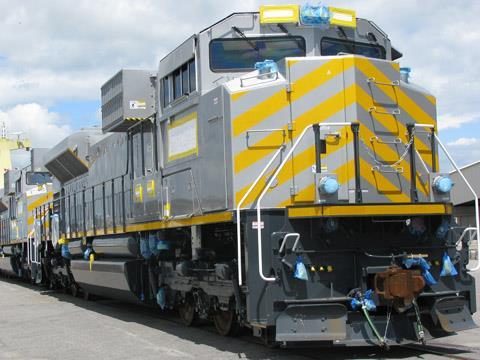 SAUDI ARABIA: The first six of 25 Electro-Motive Diesel SD70ACS freight locomotives ordered in April 2009 were handed over to Saudi Railway Co in Dammam on August 22. Deliveries are scheduled to be completed by the end of the year, bringing the number of EMD locomotives in the country to 72.
The SD70ACS locomotives will be used on the North-South line which is currently under construction, and so incorporate a number of features to suit the harsh environment of the Great An-Nafud Desert (RG 8.09 p46). These include a pulse filtration system and movable sand ploughs.
The locomotives are powered by EMD 710-T1 engines and are equipped for ETCS. The cab is isolated to reduce noise and vibration, and has air-conditioning, a refrigerator, hot plate and toilet.
Staff training is scheduled to begin in October, with a view to test running on the North-South line from November.