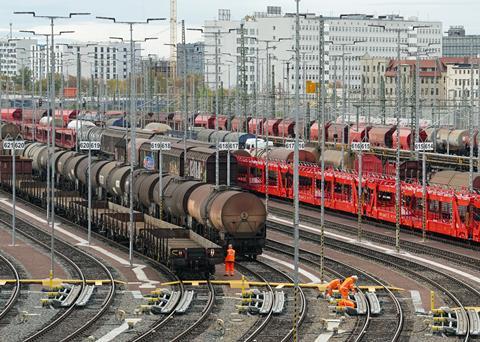 EUROPE: Trials with prototype digital automatic couplers from four manufacturers are to start this month, with a view to selecting a single type of coupler that could be introduced across Europe.
Testing will continue through to December 2022. The pilot project aims to obtain regulatory approval for the chosen design which would provide automatic connection of power, data and compressed air links between wagons.
A €13m research contract for the pilot project was awarded by Germany's Federal Ministry of Transport & Digital Infrastructure to a consortium led by Deutsche Bahn. Also in the consortium are SBB Cargo, Rail Cargo Austria and wagon leasing companies Ermewa, GATX Rail Europe and VTG.
In the initial phase of tests 12 wagons, including some tank wagons, will be fitted with prototype couplers. In the second phase a demonstrator train of 24 wagons will be formed for trial running in Germany, Switzerland, Austria and other countries. The trials will include regular operations and testing in marshalling yards.
Germany's Parliamentary State Secretary responsible for rail Enak Ferlemann said that 'we need to find solutions at the European level. The financial challenges involved are considerable, and they are not the kind of thing that companies alone can solve; we will need a comprehensive European programme with sufficient funding.'
Sabina Jeschke, DB's Board Member for Digitalisation & Technology, said 'we are delighted that we can implement this project together with our strong partners in the consortium. When the digital automatic coupling is introduced throughout Europe, it will be a revolution for freight transport by rail — and an enormous relief for employees'.
The results of the trials will be fed into the European Digital Automatic Coupler Delivery Programme which has been endorsed by the Shift2Rail Joint Undertaking. The programme covers technical assessments, testing, demonstrations, definition of migration plans, assessment of interfaces with other freight-related programmes, business cases and the identification of resources.
An interim working group is to be set up 'without delay' with activities starting under Shift2Rail, which will provide support within existing contracts and 'involve the key role of Innovation Programme 5'.
A successor programme will follow, which would include a so-called 'Transforming Project' dedicated to freight, 'consolidating the sector's and the European Union's commitment to shifting freight to rail, in line with the European Green Deal targets'.