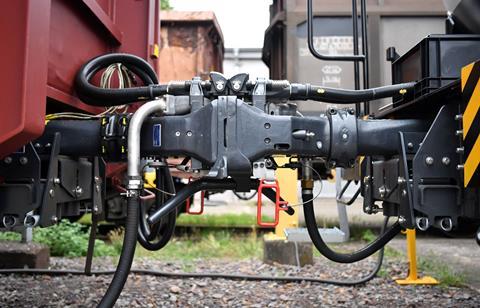 GERMANY: Deutsche Bahn has launched a programme to test digital automatic couplings in live freight traffic.
Speaking during a demonstration of prototype couplers at the DB Systemtechnik Minden research facility on August 31, Sabina Jeschke, DB's Board Member for Digitalisation & Technology, said that the technology 'opens the door to comprehensive automation and digitalisation of rail freight'. This would significantly increase the capacity of marshalling yards, she continued, which 'means a digital revolution for freight on rail'.
Over the next few months 12 wagons will be fitted with couplers from four manufacturers for a period of trials. Detailed evaluation of the different designs will allow a definitive choice to be made, paving the way for a train of 24 wagons to be formed for extended testing over several months in Germany, Austria and Switzerland, as well as in other EU countries.
Funded by a €13m grant from the Federal Ministry for Transport & Digital Infrastructure, the project involves a consortium formed of DB Cargo, Rail Cargo Austria, SBB Cargo and wagon businesses Ermewa, GATX Rail Europe and VTG. The project will run until 2022.
DB Board Member for Freight Sigrid Nikutta affirmed that 'we want to switch more freight to rail. To do that we need attractive services for our customers, and technical innovations such as the digital automatic coupler will help us. It makes rail freight faster and simpler, strengthening single wagonload services as a green alternative to the lorry. Carrying goods by rail is the easiest way to protect the climate.'
Nikutta pointed out that digital couplers would mean longer and heavier trains, with marshalling yard capacity raised by 40% and the number of wagonload services increased from 9 000 to 27 000 a week. Wagonload services account for about 40% of all rail freight in Germany.
DB confirmed that the ultimate objective was to re-equip Europe's wagon fleet. Work could start in 2023, and the target would be to complete the programme by 2030 at an estimated cost of €6∙5bn to €8∙5bn, with conversion of the German wagon fleet alone costing €1∙5bn.