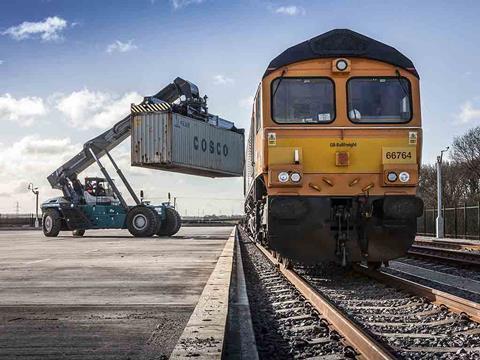 UK: The iPort Rail intermodal freight terminal in Doncaster is now operational, industrial and logistics property developer Verdion announced after the first test train ran onto the site on February 20.
The 12 ha rail facility is part of the 136 ha iPort logistics hub site which is connected to the East Coast Main Line via the South Yorkshire Joint Line. It is also adjacent to the M18 motorway, close to Doncaster Sheffield Airport and within 2 h of major East Coast ports.
The terminal can handle up to six trains per a day with the maximum UK length of 775 m. It has an 800 m reception siding and two 400 m handling sidings with provision for extending to 800 m in the future. The site provides a storage capacity of 1 500 TEU, with a secure facility for international movements.
'iPort Rail has been years in the making but it is now open and fully operational', said Verdion CEO Michael Hughes on February 22. 'Sitting within the wider iPort logistics hub, iPort Rail is a state-of-the-art rail terminal designed to serve the Yorkshire region with excellent road, rail and air connections for national and international freight transport. We have an experienced team already in place and everything is designed to help companies move goods quickly and minimise supply chain downtime.'