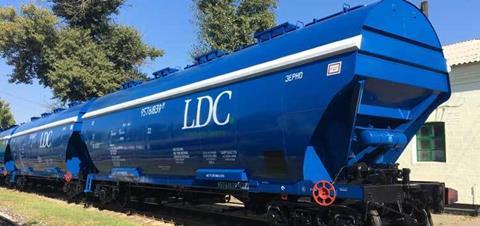 UKRAINE: Agricultural produce merchant Louis Dreyfus Co is to establish a wagon logistics business with a fleet of up to 1 000 grain hoppers, backed by an US$35m EBRD loan.
The bank said this would help to increase competition and market efficiency in the country, which is of growing in importance on the global grain market. Ukraine expects to harvest more than 72 million tonnes of grain this year, with more than 50 million tonnes to be exported and 70% of the export traffic being transport by rail. However, much of the wagon fleet is at the end of its design life.
Obtaining new vehicles would enable LDC to diversify its grain transport methods, with the expected reduction in the use of road transport cutting CO2 emissions by 8 510 tonnes/year.
EBRD is to invest up to US$100m in a US$600m bond issue by national railway Ukrzaliznytsia. The bonds will be listed on the Euronext Dublin, and the proceeds used for infrastructure rehabilitation on priority routes, predominantly on TEN-T corridors.