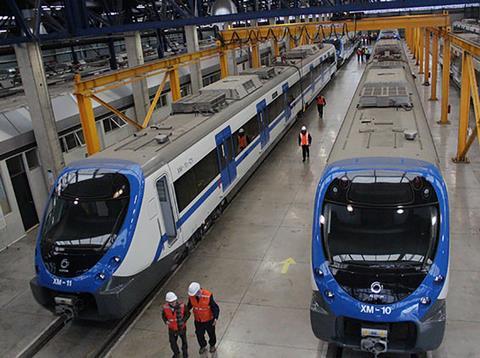 CHILE: Grupo EFE President Jorge Inostroza unveiled a US$7⋅5bn investment masterplan on September 23, which aims to increase traffic on the state railway from 30 million to 100 million passenger-journeys a year by 2022. 'No predecessor of mine has ever presented a plan like this', said Inostroza, noting that EFE had pursued a policy of 'patch and mend' for the last 30 years.
The masterplan contains 18 projects, including a US$1⋅2bn programme to increase capacity between Santiago and Valparaíso to accommodate 6 million passenger-journeys and 21 million tonnes of freight a year. Cutting journey times between Santiago and Concepción to 4 h would require spending of US$1⋅68bn, while an 'inter-city' service connecting Victoria, Temuco, Freire and Loncoche is forecast to carry 930 000 passengers a year.
During the first quarter of 2016, EFE is due to decide on which projects should receive priority. With no single funding model for the portfolio, Inostroza said that projects would be financed on an 'ad hoc' basis, with potential sources including the infrastructure fund currently being developed by the government.
Some projects would also be of interest to private investors, such as the US$144m scheme to build a network of intermodal freight terminals at Paine, Maipo, Malloco, Talagante and Batuco on the outskirts of Santiago. Inostroza reported interest from companies in Spain, China and France in built-operate-transfer or turnkey concessions. 'There is great interest in investing in the country', he said.
EFE has opened a depot at San Eugenio to maintain the fleet of 16 Alstom X'Trapolis Modular EMUs due enter service between Santiago and Rancagua during the first quarter of 2016. Covering 7 000 m2, the new facility has eight tracks, six inspection pits, an underfloor wheel lathe and a train-washing plant.