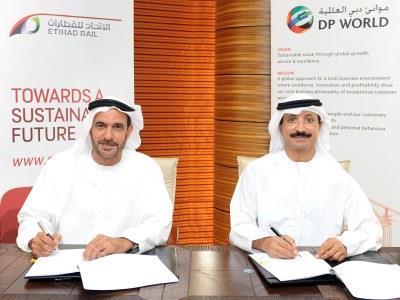 UAE: Proposals for the construction of an intermodal rail terminal at Dubai's Jebel Ali Port were confirmed on May 8, when Etihad Rail signed a Memorandum of Understanding with port developer DP World. The agreement was signed by Etihad Rail Chairman Nasser Al Sowaidi and Chairman of DP World Sultan Ahmed Bin Sulayem, who hailed the MoU as 'a significant step forward' in the development of the region's 1 200 km rail network.
DP World has already earmarked a strategic site for the intermodal terminal, adjacent to Maritime Terminal 1 at Jebel Ali. Under the terms of the agreement, DP World will oversee building and operation of loading and unloading facilities at the rail terminal while Etihad Rail will construct and own the rail infrastructure and manage rail services to and from the port.
Al Sowaidi said the important collaboration with DP World to establish a rail terminal inside Jebel Ali Port would 'enable the efficient transfer of containerised freight from ocean vessels onto the rail network and vice versa, ultimately driving the economic growth of the UAE'. It would also be well placed to serve the emerging Dubai Logistics Corridor. Bin Sulayem said adding a rail connection to existing road, air and sea links would make Jebel Ali a multi-modal hub and reinforce Dubai's position as a gateway to the 'wider Middle East, Subcontinent and East Africa region'.
With each train carrying up to 260 TEU, the rail terminal at Jebel Ali is expected to achieve a throughput of up to 5 million TEU per year by 2030. The terminal would be served by the second phase of the Etihad Rail network, which will add an Abu Dhabi – Dubai route to the initial Ruwais – Shah – Habshan line now under construction.