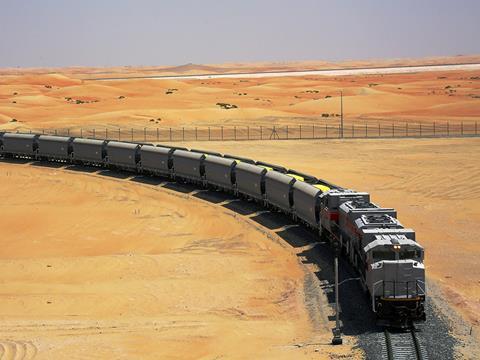 UAE: Regulatory approval for the start of full commercial freight operations on Phase 1 of the national rail network is expected 'shortly', developer Etihad Rail announced on September 28.
The 1 200 km network is being built in three phases. Construction of the 264 km Phase 1 between Shah, Habshan and the Port of Ruwais began in 2010, with test services between Habshan and Ruwais starting in September 2013.
Etihad Rail's operating partner Etihad Rail DB is now running daily trial trains. Over the past 12 months more than 2 million tonnes of granulated sulphur has been transported from Shah and Habshan for Abu Dhabi National Oil Co, replacing more than 66 000 lorry journeys, and volumes are expected to increase significantly in 2016.
Etihad Rail says it is in advanced negotiations with prospective customers including DP World, ESI and Arkan, and has signed more than 54 memoranda of understanding with companies in industries including petrochemicals, agriculture, aggregates and waste.
Etihad Rail currently has a fleet of seven EMD SD70ACS locomotives and 240 sulphur hoppers supplied by CSR Yangtze.
'Transporting more than 2 million tonnes of sulphur in the past year during our testing and commissioning and trial operations phases is a very proud achievement for Etihad Rail, our operating partner, ERDB, and the UAE as a whole, as it clearly demonstrates Etihad Rail's unique value proposition as a reliable, safe and environmentally friendly mode of transport', said Etihad Rail CEO Faris Saif Al Mazrouei. 'Going forward, we will continue to build on this success as we move towards our target of transporting more than 7 million tonnes of sulphur every year once we enter into full commercial operations.'
The 628 km Phase 2 will extend the railway to Mussafah, Khalifa Port and the port of Jebel Ali, as well as to the Saudi border through Ghweifat and the Omani border through Al Aïn as part of the future GCC Railway. The 279 km Phase 3 would serve the north of the UAE.
A feature article on the Etihad Rail network appeared in the February 2014 issue of Railway Gazette International, which subscribes can access in the digital archive.