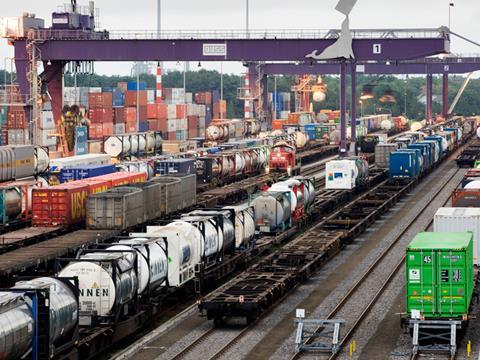 EUROPE: EU transport ministers endorsed a formal declaration in Berlin on September 21 committing them to 'support international rail freight and further strengthen the Rail Freight Corridors'.
Acknowledging that the Rail Freight Corridors had 'proven to be very effective in developing common measures facilitating the enhancement of the resilience of rail freight in the event of major crises', the ministers proposed that further resilience measures be developed and that lessons be learnt from coping with the Covid-19 pandemic in terms of ensuring good quality, high capacity infrastructure.
Further work is to be undertaken to 'strengthen the Rail Freight Corridors' one-stop shops in a co-ordinated way', with key performance indicators used to measure progress.
Rail freight stakeholders will receive support 'to enable them to better adapt to market needs' through encouragement to make use of opportunities for digital sharing of information on train movements, as in the 'Estimated Time of Departure and Arrival' project. Infrastructure managers will be invited to conclude the 'Timetable Redesign Project' which 'has the potential to become the main instrument for enhancing and improving international traffic in Europe by providing a more flexible and timely allocation of infrastructure capacity'.
Infrastructure managers will be encouraged to develop virtual traffic management by establishing standardised co-operation of national traffic management centres to ensure rapid response to disruption and to facilitate joint preparations for planned restrictions on capacity.
The declaration further commits ministers to enhance rail freight as 'one of the most environmentally friendly ways of moving freight'.
Referring to the European Commission's Green Deal initiative, they state that 'a level playing field among all transport modes' is essential to reach the target of 'delivering sustainable and carbon-free rail freight transport', as is 'continued greening of rail itself by moving to carbon-neutral energy sources'.
Infrastructure should be adapted to the needs of rail freight without affecting passenger operations, while the TEN-T provisions for infrastructure, 'especially the unlimited possibility to run 740 m trains within the core network' are considered 'sufficient and appropriate'.
Co-operation with the TEN-T Core Network Corridors will continue, and co-operation with road and waterborne transport 'in providing complete and efficient transport chains in the most eco-friendly way' will be encouraged.
Measures for mitigating noise from freight trains are welcomed as a means of increasing the acceptance of freight trains by the population ― something specifically referred to by Germany's Federal Minister of Transport Andreas Scheuer in his statement at the Rail Summit with other transport ministers held on the same day.
The ministers supported the European Union Agency for Railways in its efforts to improve technical and operational harmonisation, remarking that this is 'most important in safeguarding and improving the competitiveness of rail freight'. All stakeholders are invited 'to co-operate and to remove redundant national rules' which are covered by TSIs.
The declaration recognises the importance of ERTMS for enhancing competitiveness and also that a co-ordinated approach is needed at the EU and national level to support the fitment of ETCS onboard units and the 'development and authorisation strategies to enable a smooth ERTMS trackside deployment'. Further, it emphasises the importance of rail freight innovations at European level and 'the need for the successor to Shift2Rail to focus more specifically on rail freight'.
Implementation of the Digital Automatic Coupling and automated train preparation are recognised as 'one of the main priorities', the aim being to agree on a single EU-wide migration strategy by 2022.
Finally, the declaration recognises that skilled staff are essential for the commercial success of international rail freight and the achievement of modal shift and climate targets, and ministers welcomed measures to make employment in rail freight more attractive; initiatives to address labour market needs will receive support.
The declaration builds on a series of commitments made in recent years that are intended to foster the development of rail freight across Europe, including declarations made in Rotterdam in 2016 and in Graz and Wien in 2018.
The declaration was welcomed by rail sector associations, suppliers and other interested parties through the Sector Statement Group, which noted that the Berlin Declaration 'showcases the necessary clear commitment of the EU Member States to support international rail freight and rightly recognises the environmental advantage of rail freight in view of the European Green Deal'.