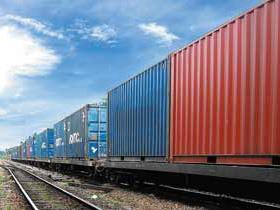 INTERNATIONAL: Further steps to improve and expand the operation of international container trains between China, Russia and Europe are envisaged under a co-operation agreement between Russian Railways Logistics and the Zhengzhou International Land Port Development & Construction Co.
Signed at an international logistics congress in Zhengzhou on November 27 by RZD Logistics Chief Executive Pavel Sokolov and his counterpart Zhao Wenmin, the memorandum of co-operation covers the expansion of intermodal services to and from the capital of Henan province, including the use of the CIM/SMGS unified railway consignment note.
The two partners have agreed to expand Zhengzhou – Russia container services using existing terminals, but will investigate the opportunities for creating a new logistics hub in Moscow. They will also look at the potential to serve other destinations in both Russia and Belarus.
As well as focusing on the movement of high-tech products, where multinational manufacturers have been willing to pay higher rail rates for a shorter delivery time compared with sea, the partners are also hoping to target the market for the winter movement of temperature-sensitive goods between China and Europe and between Central Asia and China.
RZD Logistics is already working with Far East Land Bridge, DB Schenker, Kaztransservice and Chongqing-based logistics company YuXinOu to develop container services across the Eurasian landbridge corridor.