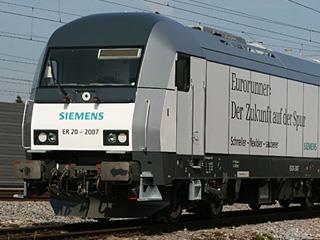 EUROPE: Siemens announced the sale of its final Eurorunner ER20 diesel locomotive on July 26.
The design has now been replaced in the manufacturer's range by the Vectron DE, which incorporates customer feedback from the Eurorunner, has improved braking and fuel consumption and meets the latest standards for crashworthiness and emissions.
The last ER20 has been acquired by Slovenian operator Adria Transport for use on international freight trains from central Europe to the port of Koper.
Austrian Federal Railways placed the first order for 70 ER20 locomotives in 1998, designating them Class 2016 (Hercules).
According to Siemens, the design's modularity and short delivery times proved popular with private operators and leasing companies, with 181 locomotives acquired by 22 customers in Austria, the Czech Republic, Germany, Romania, Slovenia and Hong Kong, where Kowloon - Canton Railway bought five.