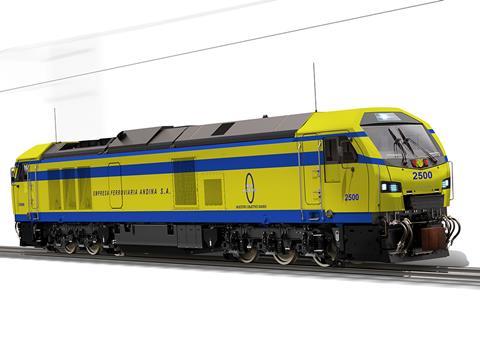 BOLIVIA: Ferroviaria Andina has placed the first order for three locomotives to Stadler's South American Light Loco design, which has been developed specifically for the Latin American market.
The SALi locomotives to be manufactured at Stadler's Valencia plant in Spain are derived from the Eurodual family. Stadler said the 'ultra-lightweight' 100 km/h 1 000 mm gauge freight locomotives for FCA would combine high-power output with reduced fuel consumption. They will operate at more than 5 000 m above sea-level, and so feature two noise and heat insulated cabs to ensure comfort under extreme conditions.
'This contract represents the crowning moment of many years of intense work carried out in the Latin American continent, which we believe has a great rail-oriented future', said Iñigo Parra, Stadler's Executive Vice-President, Spain, when the order was announced on February 19.
Stadler hopes that the SALi will 'become the benchmark locomotive for the Central Bioceanic Rail Integration Corridor' which is proposed to link the Peruvian port of Ilo near Tacna with the port of Santos near São Paulo in Brazil. 'The progress of rail freight, the connection by rail of the Pacific and Atlantic seaboards and the solving of the mobility challenges posed by the big cities will provide multiple opportunities in the railway sector for which Stadler has efficient solutions', said Parra.
FCA provides freight and passenger services on a 2 276 km network in the west of Bolivia, with international links to Chile, Argentina and to Peru via a train ferry across Lake Titicaca.
The locomotive order 'is another step forward towards the railway unification of Bolivian territory and the furtherance of opportunities for integration and trade, not only within Bolivia but also with its neighbouring countries and other parts of the world, by means of much more competitive and safer transportation', said FCA President Carlos Gill.