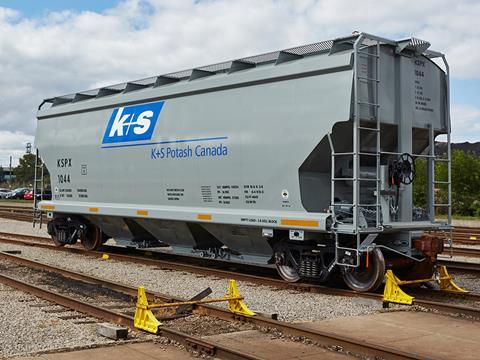 CANADA: K+S Potash Canada has begun taking delivery of more than 500 wagons of a new design ordered from National Steel Car.
The wagons will be operated in 177-wagon trains 3 km long hauled by five locomotives. These trains will transport potash 1 800 km from the Legacy production plant which is being developed near Bethune in Saskatchewan to an export terminal at Port Moody in British Columbia, or to destinations in the USA.
The wagons have the same 105 tonne capacity as a standard wagon, but are slightly shorter so more wagons can be hauled per train. They have a single top opening to enable them to be loaded while in motion, and they will be unloaded automatically into a warehouse or directly onto ships in Port Moody.
'It is an exciting day for our team, as we have been working together on this project since 2012, and are so pleased to deliver the first car', said Hugh Nicholson, Executive Vice-President Marketing, Sales & Quality at National Steel Car.