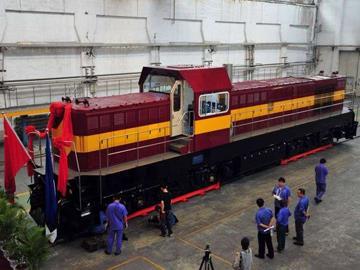 ESTONIA: The first locomotive built by China Northern for a customer in the European Union was loaded onto a ship at the port of Tianjin on August 11.
Estonian freight operator EVR Cargo announced the €30·2m contract for 16 single-cab shunting locomotives in August 2011.
The 1 520 mm gauge Type DF7G-E diesel locomotives are being built at CNR's Beijing February 7 factory. They are expected to offer significantly lower fuel consumption and maintenance costs than the CKD ChME3 locomotives to a 1960s design which they will replace.
Manufacturing meets EU standards, according to CNR, with 173 quality requirements for the design, manufacturing and testing process.
The February 2012 issue of Railway Gazette International looked at how Chinese manufacturers have entered the international market, with an exclusive guide to locomotive and rolling stock contract wins in Europe, Australasia and selected other markets.