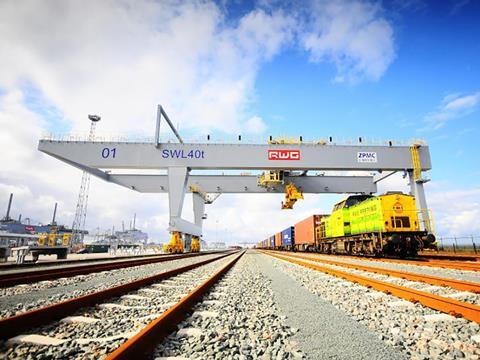 NETHERLANDS: The first commercial freight train arrived at the Rotterdam World Gateway container storage and transhipment terminal on August 25.
RWG said this was a milestone in start-up of 'the most advanced and most automated container terminal in the world', which opened in October 2014 and began 24/7 operation in May.
Containers can now be delivered to or collected from RWG by rail, road and barge. The rail terminal has two rail cranes and six 750 m tracks where containers can be handled independently of the loading and discharging of deep sea ships.
The train was operated by Rotterdam Rail Feeding on behalf of Distri Rail and carried containers for various customers. There are direct services Ludwigshafen, Frankfurt and Duisburg, with connections to other destinations.
RWG is an international consortium comprising terminal operator DP World and four shipping lines APL, MOL, HMM and CMA CGM.