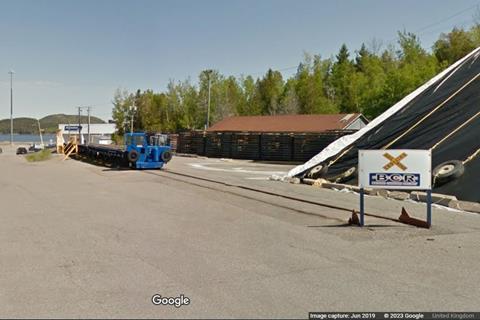 NORTH AMERICA: Settlement has been reached in a legal dispute over the isolated Bayside Canadian Railway in New Brunswick, which had been built in an effort to circumvent US shipping rules.
Alaska Reefer Management and its subsidiary Kloosterboer International transport frozen fish including pollock from Alaska to the eastern USA via the Panama Canal. A US law known as the Jones Act requires the shipping of goods by water, or by land and water, between two points within the USA to use US built and flagged vessels, which is more expensive than using foreign flagged ships. However, there is an exemption if a Canadian railway is used for part of the route.
In an effort to take advantage of this exemption, the frozen fish was delivered by sea from Alaska to Bayside in Canada using foreign-flagged vessels. The fish was then transferred onto lorries, which were loaded onto flat wagons and shunted back and forth on Bayside Canadian Railway's solitary track around 70 m long. The lorries could then enter the US by road at a border crossing a few kilometres away, the fish having travelled on a Canadian railway during their journey between an origin and destination in the USA.
In 2021, the US Customs & Border Protection said that this arrangement did not meet the requirements of the Jones Act, and gave notice of penalties totalling US$350m on the various companies involved. This triggered a legal dispute.
Last year a court ruled hat the very short railway trip which did not actually go anywhere was indeed not compliant with the requirements of the Jones Act. However, the court also found that CBP had not followed the correct procedures when issuing its penalty notices.
Under a negotiated settlement announced on July 19, CBP and the US Department of Justice have agreed that all notices of penalty will be withdrawn. KIF and ARM will now pay a settlement US$9·5m, rather than the original penalties, which would now have reached more than US$400m.
'Resolving this matter is a positive development for our companies and the broader US seafood industry', commented ARM President Per Brautaset.
The railway is reported to be have been dismantled earlier this year, as it no longer served any purpose.