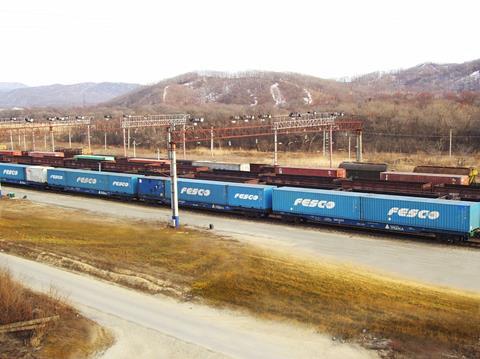 ASIA: FESCO and Rail Cargo Logistics–RUS have completed their first shipment of canola vegetable oil in containerised flexitanks from the Krasnoyarsk region of Russia to Nantong in China.
The initial shipment of 10 containers carrying 216 tonnes of oil arrived after a transit time of 35 days, including lorry transport to the BLTK terminal in Krasnoyarsk, transport by the regular FESCO Yenisei Shuttle train to Vladivostok then by FESCO China Express ship to the port of Shanghai, and finally by river to the port of Nantong.
'We are planning to develop exports of bulk cargo in containers equipped with flexitanks from other regions of Russia using our services through Vladivostok, as well as land routes through Mongolia and Kazakhstan', said FESCO President Maхim Sakharov.
'The Chinese market is one of the most promising for the export of Russian goods, especially food', said Alexander Baskakov, Director of Rail Cargo Logistics-RUS. 'I am sure that the demand for transportation in flexitanks will grow in line with providing regular shipments.'