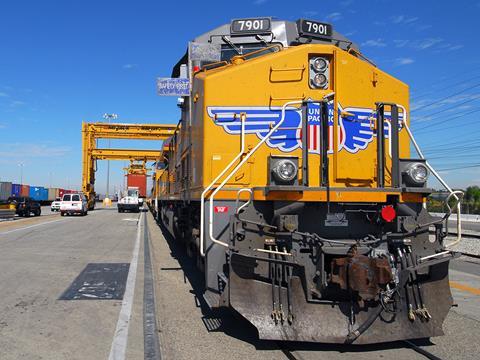 NORTH AMERICA: The RailPulse coalition which aims to accelerate the use of telematics to increase rail freight safety, efficiency and shipment visibility has entered into a 10-year agreement with Railinc covering the development, maintenance and operation of a wagon location and condition monitoring platform.
Coalition members are currently facilitating trials of remote monitoring equipment, with a pilot version expected to be ready for demonstration by the end of 2022 and deployment planned from early 2023.
Railinc President & CEO Allen West said the company would be able to use its capabilities to quickly scale the platform.
Mike McClellan, Senior Vice-President & Chief Strategy Officer at RailPulse founding member Norfolk Southern, said 'Railinc has over 20 years of experience managing software and data applications for the industry, with best-in-class security and tools that enable robust data sharing and access policies'.
The latest member of RailPulse is Union Pacific, which joins GATX Corp, Genesee & Wyoming, Norfolk Southern, TrinityRail, Watco and The Greenbrier Companies.
'The use of technology to increase shipment visibility is critical for ensuring we meet the needs and expectations of our customers who rely upon us for safe and reliable service', said Kenny Rocker, Union Pacific's Executive Vice-President, Marketing & Sales, on June 7.
McClellan said interest in RailPulse continues to grow, and Union Pacific joining the coalition 'demonstrates the strategic appeal of the transformative technology that RailPulse is pursuing for the betterment of all participants in the rail ecosystem: shippers, builders, railcar owners and the railroads'.