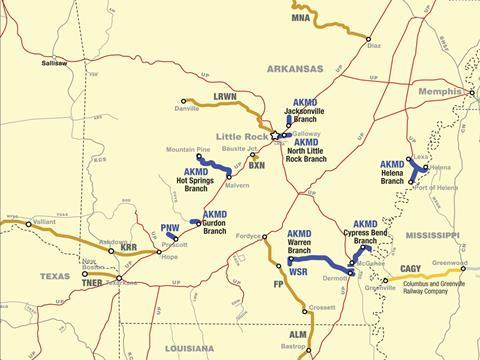 USA: An agreement for Genesee & Wyoming Inc to acquire Pinsly Railroad Co's Arkansas Division was announced on November 19. Subject to regulatory approval the transaction is expected to close in early January, with G&W paying $40m in cash adjusted for final working capital. G&W estimates that Pinsly Arkansas will contribute $5·4m of EBITDA in 2015.
Pinsly Arkansas has 220 km of owned and leased track, including the Arkansas Midland Railroad's seven non-contiguous branch lines, the Prescott & Northwestern Railroad, Warren & Saline River Railroad and two Railroad Distribution Services yard operations. There are 70 employees and 16 locomotives, and traffic totals 35 000 carloads/year with customers including the aluminium, forest products, aggregates, energy and carton board industries.
Pinsly Arkansas will be managed as part of G&W's Central Region, which includes six existing short lines in Arkansas.