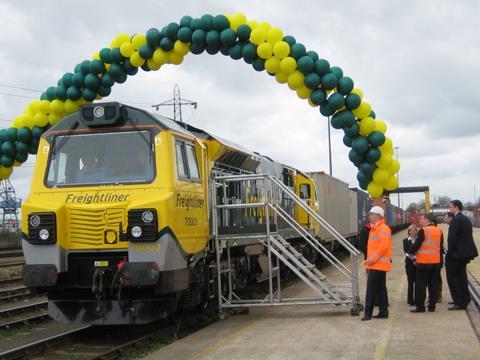 UK: The completion of a £71m programme to allow 9 ft 6 in containers to be carried on conventional flat wagons from the UK's second-largest container port was marked with a ceremony at Southampton Central station on April 4.
The enhancement of the loading gauge on the key artery between Southampton on the south coast and Nuneaton in the Midlands was completed on time and around £11m below budget by Network Rail and its contractors.
Track was lowered or slewed in 22 locations and 16 bridges and 11 station buildings were rebuilt to accommodate the larger profile. A concrete trackbed was installed in Southampton Tunnel to allow the formation to be lowered in one of the largest single elements of the programme.
Network Rail is committed to introducing the W10 loading gauge on routes from Felixstowe and Southampton to the West Coast Main Line as part of the government's efforts to create a Strategic Freight Network. Shipping firms have lobbied hard for gauge enhancement, which allows high-cube boxes to be moved without the requirement for purpose-built low-floor wagons.
Freightliner, the largest operator of intermodal trains from Southampton, has now introduced two more daily trains to the 12 it already operates from Southampton. The company says rail's share of the container traffic through the port had been declining because of capacity constraints, but the gauge enhancement together with the use of GE PowerHaul diesel locomotives on its heaviest trains has given it a 18% capacity increase.
The largest share of the funding came from the Department for Transport (£43m), whilst other contributors included Associated British Ports, the South East England Development Agency and the European Regional Development Fund.
Minister of State for Transport Theresa Villiers told assembled guests that the project was 'a great partnership between the public and private sectors', adding that rail freight was a 'strategic priority with cross-party political support'.