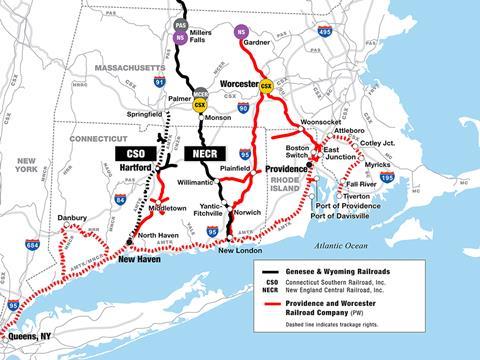 USA: International freight railway group Genesee & Wyoming Inc announced on November 1 that it had completed the acquisition of Providence & Worcester Railroad Co for $126m.
Following the closing of the transaction, G&W immediately transferred control of P&W to a voting trust with R Lawrence McCaffrey appointed as trustee. This arrangement is to remain in effect until the Surface Transportation Board formally approves G&W's control of P&W, which is expected by the end of the year. P&W would then be managed as part of G&W's Northeast Region, led by Senior Vice-President Dave Ebbrecht.
P&W operates in Rhode Island, Massachusetts, Connecticut and New York, connecting with G&W's New England Central Railroad and Connecticut Southern Railroad and serving the ports of Providence, Davisville and New Haven. It has around 140 employees, 32 locomotives, 260 km of owned track and 560 km of track access agreements, and carries a diverse mix of traffic totalling 43 000 carloads and intermodal units annually.
Morgan Stanley & Co acted as G&W's financial adviser for the transaction, and Simpson Thacher & Bartlett as legal adviser.