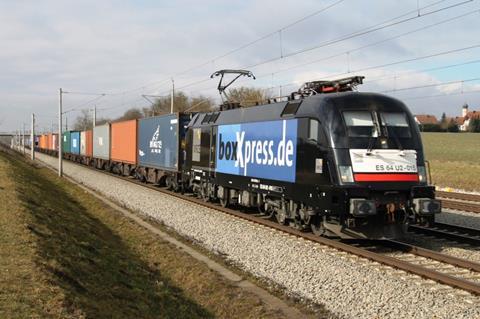 GERMANY: The leaders of six private rail freight operators have published an open letter to federal Transport Minister Dr Volker Wissing urging the government to revise pessimistic forecasts for the sector's future growth.
The letter, released at the Transport Logistic trade show held in München on May 9-12, says that rail freight traffic has doubled since the mid-1990s, with 'companies which do not belong to the DB Group carrying the growth alone except for a short period at the beginning of the noughties'. Today, these companies 'cover around 60% of the rail market. We want to continue to grow and believe that a market share of 35% is possible by 2035'.
The letter says the government has issued a series of scenarios for future market demand which the signatories believe risk seriously underestimating the potential for rail growth.
'We fear a self-fulfilling prophecy as a result of the dynamics of these statements. Please believe us that our industry does not tend to be overly optimistic', the letter says.
'But average annual growth of 0·7% over the next 30 years is absurdly low. Even assuming that the infrastructure expansion standstill actually continues, we believe it would easily be possible to increase capacity from almost 140 billion tonne-km to the forecast value of just over 170 billion tonne-km through an increase in capacity utilisation and technological innovations.
'In our opinion, growth in combined transport is significantly underestimated.'
Coal and petroleum transport are represented as proxies for the whole bulk market, and the government forecast removes these without replacement, the letter warns.
The signatories highlight a number of potential growth segments for rail, notably in containerised and consumer goods.
'The prerequisite for this, however, would be infrastructure with sufficient reliability. As far as we know, you are currently setting the course for this to be possible again, albeit not immediately. In this and other long-term investment plans, no decisions should be made at the expense of the railways that future generations will regret', the letter concluded.
The signatories are Ludolf Kerkeling, Managing Director of Havelländische Eisenbahn; Sven Flore of SBB Cargo International; Henrik Würdemann who leads Captrain Deutschland; Jan Elfenhorst, General Manager of Lineas Deutschland; Stefan Mark of BoxXpress.de; and Stig Kyster-Hansen, Managing Director of Hector Rail.