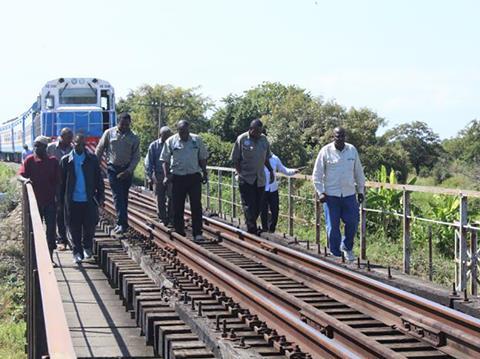 AFRICA: Tanzania-Zambia Railway Authority and Zambia Railways Ltd have signed an open access agreement intended to facilitate the seamless movement of freight trains across each other's infrastructure. Tazara hopes to gain an additional 200 000 tonnes of freight in the first year of the agreement.
'In the past, Tazara and ZRL have collaborated in different ways, through business agreements that have enabled the operators' respective wagons to cross into each other's territory', said Tazara Managing Director Bruno Ching'andu at the signing ceremony on August 17. 'This time around, however, the collaboration has gone a step further, now permitting each operator to run locomotives and wagons alike onto each other's line, thereby smoothing the services.'
Ching'andu said performance at Tazara had 'been in decline for a long time', with the 'paltry' 87 000 tonnes carried in 2014-15 being the lowest figure in its history. However it is a 'now on a profound recovery trajectory', with traffic totalling 130 000 tonnes in 2015-16 and 170,000 tonnes in 2016-17, and a 2017-18 target of 350 000 tonnes.
The open access agreement 'signals the beginning of good times ahead', said ZRL CEO Christopher Musonda. He said the government of Zambia was introducing a transport quota system which would require all bulk cargo exceeding a certain tonnage to move from road to rail.
Musonda is also President of the Southern Africa Railways Association, and said the open access agreement 'vindicates what SARA has been advocating since its inception'. He called on SARA members to inform the market about the opportunities for rail freight 'because often times we are found wanting for not telling existing and potential clients about the good things we are doing'.