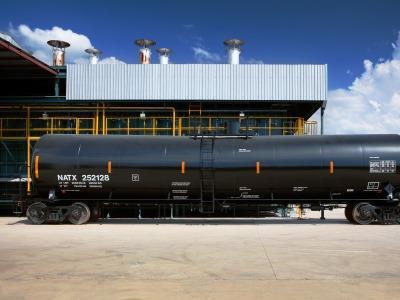 USA: The Greenbrier Companies announced an 'alliance' with Mitsubishi UFJ Lease & Finance on May 22, saying this would combine Greenbrier Leasing Co's expertise in wagon leasing and management with MUL's experience of asset finance.
MUL plans to acquire a $1bn portfolio of new and used wagons in the coming years, and expects to have secured vehicles worth more than $100m by the end of August. Greenbrier will provide management services for these vehicles.
Greenbrier said the alliance builds on its long-standing commercial and financial relationships with Mitsubishi UFJ Financial Group affiliates, and is consistent with Greenbrier's strategy to reduce the amount of long-term capital invested in its leasing business while driving more volume through lease underwriting, syndication and asset management. This has grown from less than $100m in underwriting and syndication volume in 2011 to a projected total transaction volume of approximately $425m in 2014, and its goal is to double its aggregate annual transaction volume to $1bn.
'Our leasing and management services businesses continue to innovate and grow their offerings to serve a broad range of customers including leasing companies, shippers, railroads, investors and financial institutions', said Greenbrier Chairman & CEO William A Furman. 'Currently, the scope of our management services activity extends to almost 234 000 railcars. Our commitment to increasing our manufacturing capacity and expanding our range of products enables us to continue to serve those customers which purchase equipment directly, while expanding and diversifying our market reach through our partner network.'
Greenbrier received orders for 7 000 wagons worth more than $700m in April and May. These included 1 700 intermodal wagons, 2 500 small cube covered hoppers, 2 300 tank wagons and 400 wagons for the automotive industry.