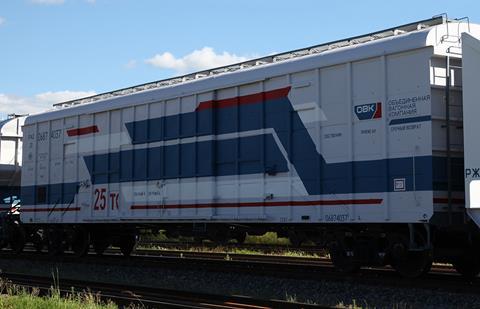 RUSSIA: United Wagon Co has obtained certification enabling series production of its Type 11-6874 high capacity van, which it says has already attracted interest from potential operators.
The wagon features high axleload 1 520 mm gauge bogies which, along with the absence of any body protrusions into the interior space, give a capacity of 73 tonnes or 175 m3. The corrugated sheet floor provides adhesion for the cargo and for loading vehicles at terminals, and four roof loading hatches can be fitted as an option.
The wagon is designed for a service life of 32 years, with intervals of 800 000 km or eight years between overhauls.
UWC estimates that there are currently around 1 400 vans in Russia which are beyond their design life, and between 2 500 and 3 500 existing vans are expected to be written off every year.