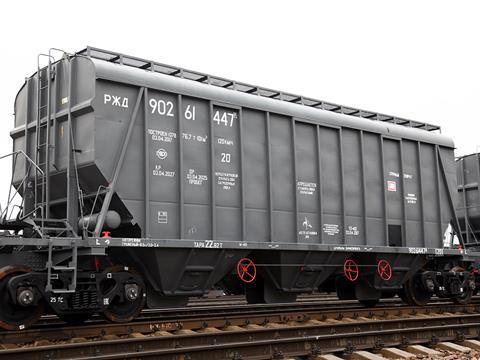 RUSSIA: Fertiliser producer MCC EuroChem has awarded United Wagon Co a contract to supply 700 Type 19-9835-01 hopper cars by mid-2019.
The wagons have a 25 tonne axleload and a lightweight design to offer a capacity of 101 m3 and 76·7 tonnes, 6 tonnes more than older designs.
The body is designed with a low centre of gravity to reduce the risk of overturning, while a two-part internal coating based on a vinyl copolymer will provide protection against explosion.
Stamp-welded hatches offer rigidity and durability, with a continuous moulded rubber sealing strip to provide a tight interface between the unloading cover and the collar. Each hatch has only two locking and sealing devices, compared with eight on other designs, offering significant cost and time savings.
The wagons are designed for maintenance intervals of eight years or 1 000 000 km, compared to two years or 110 000 km for older vehicles.
'Increasing potash production and sales capacity is a priority for our company', said Kirill Kholostov, Deputy Head of EuroChem's Logistics Division. 'EuroChem's competitiveness on domestic and foreign markets depends on end-to-end control of the supply chain, thanks to our own rolling stock and terminals at ports and use of the latest technologies'.