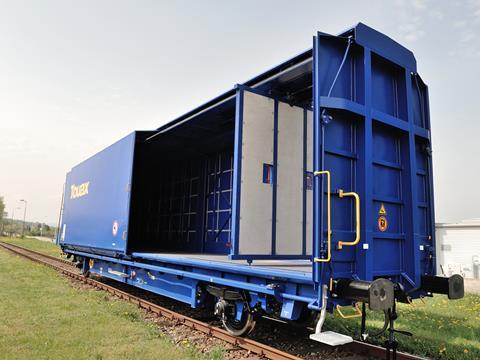 EUROPE: Following successful trials with two prototypes, this month leasing company Touax Rail is to supply Volkswagen with the first series-built vehicles from an order for 300 high-capacity sliding-wall wagons.
Volkswagen Logistics awarded Touax a contract in October 2013 for the development and lease of 300 twin-axle wagons, which were required to have a mimimum internal height of 3 000 mm to enable the transport of mesh box pallets. The vehicles are being built by Greenbrier Europe's Wagony Świdnica plant in Poland, with the first prototype completed in March 2014.
One of the two prototype wagons was displayed at InnoTrans 2014.
Touax said the contract was a step towards a further diversification of its lease fleet of more than 8 000 container, coal, steel coil, car-carrying and sliding-wall wagons. 'The partnership with Volkswagen coincides with our marketing strategy to lease more wagons to industrial clients, who are interested in profitable and long term agreements', said Louis Pastré, Business Development & Marketing Director. 'Touax is proud to be a partner for Inbound Logistics, as for many years we have been actively involved in the Outbound Logistics, transporting new cars on Laaers wagons.'