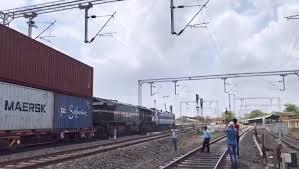 INDIA: Regular operation of electrically-hauled double-stack container trains on the Indian Railways network began on June 10, with the start of electric haulage on the 272 km Palanpur – Botad section of the Western Railway.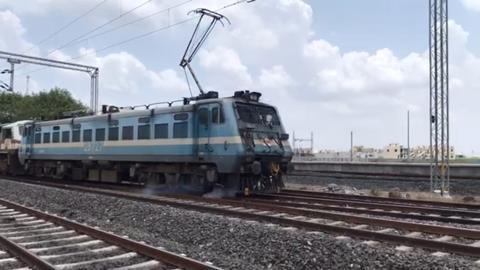 IR began exploring the feasibility of running double-stack trains under overhead electrification in 2008, as part of its planning for the Dedicated Freight Corridors.
In order to allow the use of conventional flat wagons rather than well wagons, it was decided to look at raising the contact wire height. Two WAG-7 electric locomotives fitted with high-reach pantographs were tested on the 35 km Jakhapura – Tumka section of the East Coast Railway which had been equipped with high-rise overhead line equipment.
Following the trials, IR settled on a contact wire height of 7 450 mm and a catenary height of 8 650 mm, with a tension of 10 kN as the standard for its DFC electrification. Wiring of the Western DFC is now underway, with electric operation on the Rewari – Madar section expected to begin shortly.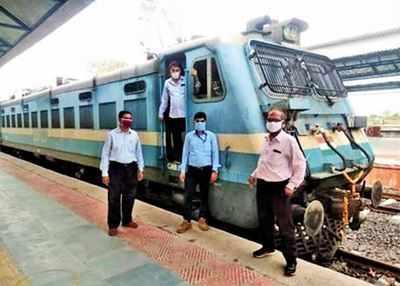 IR subsequently decided to install high-rise OLE on the 1 400 km conventional line between the key freight hub at Rewari southwest of the capital and the port of Pipavav in Gujurat, which also serves with three other ports in western India; this is already being used by diesel-hauled double-stack trains. Around 70% of the wiring on the route has now been commissioned, with multiple installation teams at work as part of the national electrification campaign.
IR's Executive Director, Railway Electrification, Bhupender Singh Bodh told Railway Gazette International that 'all efforts are on to achieve through electric operation of double-stack trains from New Delhi to Pipavav by the third quarter of the current financial year'. This would see the work completed by the end of 2020. However, he reported that 'progress has been severely affected by workforce constraints and supply chain issues' as a result of the Covid-19 pandemic.
Increasing loading limit to transport double the amount of goods, Railways successfully operates a double stack container train from Palanpur to Botad in Gujarat. pic.twitter.com/YZKQZ6EFct

— Piyush Goyal (@PiyushGoyal) June 10, 2020
Supporting documents
Click link to download and view these files