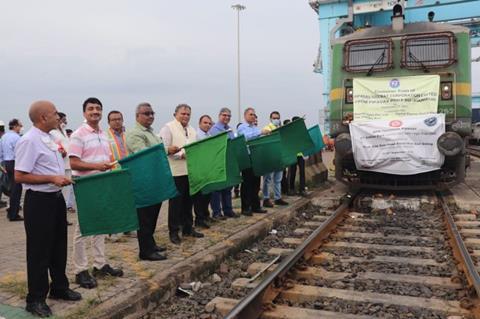 INDIA: Western Railway has started electric operation of freight trains on its Bhavnagar division between Jodhpur and Pipavav, marking a significant milestone in the national electrification programme.
Wired at a total cost of Rs2·9bn, the Surendranagar – Pipavav line is the first port feeder route in the country to be equipped with high-rise 25 kV 50 Hz electrification to accommodate double-stack container trains. This will allow trains to run through to the Western Dedicated Freight Corridor now nearing completion.
Eliminating the locomotive change between electric and diesel traction is expected to help decongest the yards at Ahmedabad, Viramgam and Surendranagar, facilitating 'seamless' operation to and from the port, increasing the average speed of freight trains and reducing fuel consumption.
Marking the departure of the first loaded train from Pipavav Port to Bhagat Ki Kothi near Jodhpur on September 21, a WR spokesman said it was 'the beginning of a new era for Western Railway as well as Indian Railways towards a smooth, easy and quick transportation from ports in India'.
The inaugural train was operated by Pipavav Railway Corp, which has now been registered as a Container Operator. This will enable it to manage and market its own freight trains on the IR network.
Read more about the Dedicated Freight Corridors and the reshaping of India's rail freight operations in the August 2021 issue of Railway Gazette International magazine.