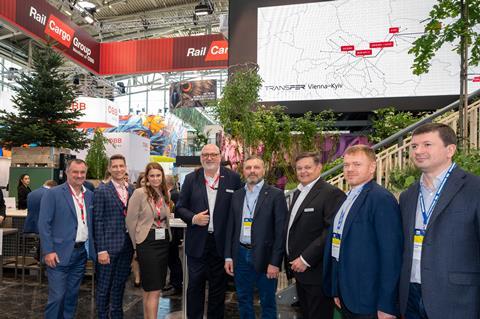 EUROPE: Rail Cargo Group used the Transport Logistic trade show in München on May 9 to announce an intermodal freight service linking Kyiv and Lviv with Budapest and Wien.
Austrian Federal Railways' freight subsidiary said this would be the 'first regular, high frequency intermodal connection' between Ukraine and numerous hubs in central Europe.
RCG already runs regular services to and from Ukraine, but says it aims to work with national railway Ukrzaliznytsia to fill a significant gap in the market for intermodal options for Ukrainian shippers.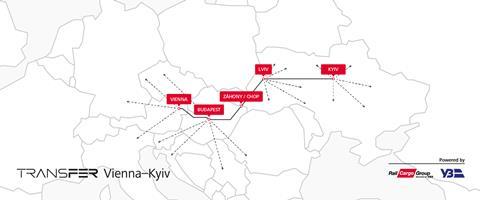 The intermodal service using RCG's TransFER brand is expected to launch later this year, linking Kyiv and Lviv with its TransNET network of rail and road services across Europe and beyond.
Speaking at Transport Logistic, ÖBB CEO Andreas Matthä paid tribute to the 'reliability and resilience' of UZ and its staff despite the effects of the full-scale Russian invasion. He said the new service 'would use the full RCG network to bring the Ukrainian economy into Europe'.
UZ management board member Viacheslav Yeromin added that the railway 'hoped to offer this service shortly to our customers', believing that 'it will run even more efficiently after our victory' in the war. 'Ukraine is essential as a source market for European supply chains', he said.
Speaking to Railway Gazette International, RCG's Head of Business Unit Intermodal Bernhard Ebner said the service would fill a gap between block trains and single wagon offerings on the cross-border corridor linking Austria, Hungary and Ukraine. Initially the trains are planned to run four to five times per week, with an aspiration for a daily service.
Containers and swapbodies will be carried at first, but RCG is evaluating options to carry lorry trailers. The containers will be transhipped between 1 520 and 1 435 mm gauge wagons at Zahony on the Hungary/Ukraine border.
Ebner explained that the first trains could run in August following a period of testing.
He invited the freight forwarding community to support the service, noting that the immediate task in the coming weeks 'is to market and publicise it'.