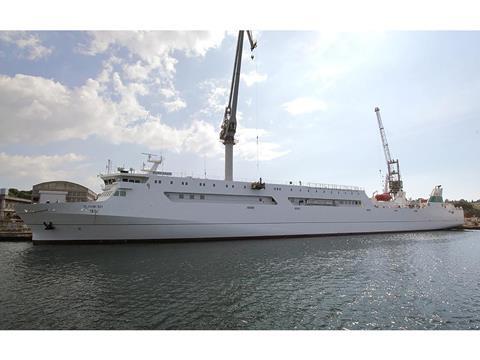 KAZAKHSTAN: National railway KTZ has awarded Croatian shipbuilder Uljanik a contract to supply a train ferry in 2017, with an option for a second which would be delivered in 2018.
A new rail-served Caspian Sea port is under construction at Kuryk south of Aktau with opening planned for December. The new vessel will be 155 m long and 17·5 m wide, with a capacity of 5 250 tonnes or 54 wagons. Two 2 040 kW diesel engines will give it a maximum speed of 14·5 knots. The contract also includes a technology transfer agreement.
Signing the contract with Uljanik CEO Gianni Rossanda in Zagreb on June 6, KTZ President Askar Mamin said the railway company was working with partners from Azerbaijan, Georgia, Turkey and China to increase freight traffic on the Trans-Caspian corridor.
Guests at the signing ceremony included Croatian President Kolinda Grabar-Kitarović and Kazakh ambassador Aslan Mussin. The value of the agreement was not disclosed, but it forms part of a €260m package of agreements between Croatian and Kazakh companies.