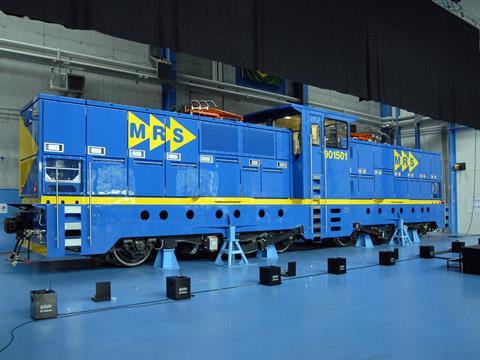 BRAZIL: Swiss manufacturer Stadler Rail unveiled what it says is 'by far the largest and most powerful rack and pinion locomotive ever built' on June 6.
MRS Logística placed a SFr60 order in 2010 for seven custom-designed 3 kV DC electric locomotives, which will be used to haul heavy iron ore trains on the 10 km rack section of the line linking São Paulo with the Port of Santos.
The locomotives will have two twin-axle bogies, each with two pinion transmission systems engaging with the triple-lamella Abt rack. Two separate adhesion traction motors will contribute about 25% of the power.
The locomotives will be twice as powerful as the line's current Hitachi locomotives, according to Stadler. Loadings of 500 tonnes per train are said to be the heaviest on any rack line, and will be increased to more than 800 tonnes when the Stadler locomotives are in service. Regenerative braking will enable 'massive' energy savings to be made on the 3 kV DC line.
During July and August the first locomotives will travel from Basel to Antwerpen by barge, and will then by shipped by Intermarine to Cubatão. Entry into service is planned for later this year.
Stadler rack locomotives for MRS Logística
Gauge, mm
1 600
Length over couplers, mm
18 720
Width, mm
3 280
Height, mm
4 600
Mass, tonnes
121
Rating, kW
5 000
Wheel diameter, new, mm
1 069
Starting tractive effort, kN
760
Electrification
3 kV DC
Couplers
AAR
Maximum speed, km/h
adhesion
60
uphill
30
downhill
25