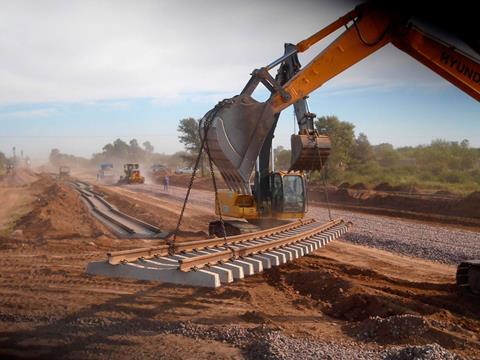 ARGENTINA: The isolated 285 km route running from Puerto Deseado to Las Heras in Santa Cruz province is to be reopened for freight traffic at a cost of 90∙1m pesos, the government announced on October 5.
Disused since 1978, the route is being upgraded to move materials for state-owned oil company YPF, from the deepwater port at Puerto Deseado to oil fields under development in the north of Santa Cruz.
Work will include drainage and embankment repairs, level crossing upgrades and track renewals involving the replacement of 1 800 sleepers. With work undertaken simultaneously from Las Heras, Pico Truncado and Puerto Deseado, completion of the first phase should allow train operations to commence within two months.
Separately, Minister of the Interior & Transport Florencio Randazzo has announced that tenders are to be called to undertake track renewals on a 147 km section of the Mitre network in Buenos Aires province, connecting Capilla del Señor with Pergamino. This would enable passenger services to return to this route.