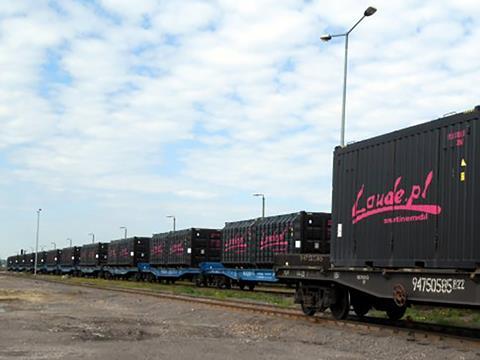 POLAND: Logistics company Laude Smart Intermodal has awarded United Wagon Co a contract to design and supply 1 000 flat wagons for carrying containers on the Russia – Poland corridor.
Announcing the order on September 14, UWC said its Type 13-6724 would be the first 1 520 mm gauge flat wagon to offer a loading length of 46 ft and capacity of 80 tonnes. This will provide the ability to transport a wide range of container types, including two non-standard specialised containers of up to 23 ft with a gross weight of up to 40 tonnes.
The wagons will have a design life of 40 years, with the cassette bearings on the 25 tonne axleload bogies being designed to reduce the frequency of removal for maintenance by a factor of four compared to older designed running on 23·5 tonne axleload bogies.
UWC's Tikhvin plant has produced two prototypes which are undergoing testing with certification expected in the first quarter of 2021. Deliveries to Laude Smart Intermodal would then be completed by the end of 2021, taking its fleet of Tikhvin-produced wagons to a total of 1 841 units, including 641 Type 13-6851-01 flat wagons for 1 520 mm gauge lines and 200 Sgmmns flat wagons for 1 435 mm gauge routes.