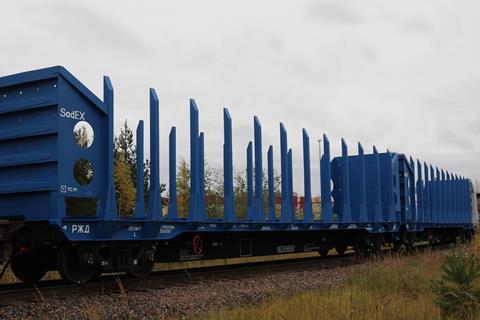 RUSSIA: Leasing company Dessa has awarded United Wagon Co's Tikhvin plant a contract to supply a further batch of Type 13-6895 flat wagons for timber traffic. The wagons are to be delivered in Q1 2021 and will be leased by Sodex.
The 60 ft wagons with 25 tonne axleload Type 18-9855 bogies offer a capacity of 72·5 tonnes or 158 m3, up to 40% more than similar 40 ft wagons. The loading length of 18·85 m can accommodate three 6 m timber stacks while remaining within the 'short-base' tariff range. Uniform cross-section side racks minimise unused space when transporting packaged loads.
The wagons are designed for maintenance intervals of up to 1 million km or eight years, with a service life of 40 years.
'Both our customers and we have had successful experience operating Tikhvin flat cars, and appreciated their high performance', said Desssa CEO Vyacheslav Pogudin. 'For this reason, we have chosen to put new-generation freight cars at the core of the lease portfolio we are developing.'