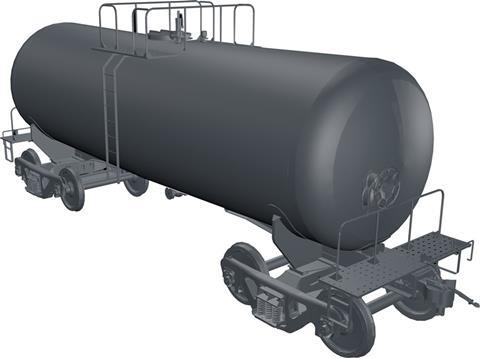 ARGENTINA: Military equipment manufacturer Fabricaciones Militares has unveiled a new 1 676 mm gauge tank wagon designed for the transport of crude oil and other heavy hydrocarbons. The self-supporting tank means that the wagon does not require a frame, offering a saving of up to 3 tonnes in tare weight compared to other designs.
FM says that the design has been developed for state-owned oil company YPF, to move oil between Luján de Cuyo in Mendoza province and its refinery at Ensenada southeast of Buenos Aires.
Having installed a new production line at its Río Tercero plant, FM has spent 35 000 h developing three wagon designs unveiled last year as well as a domestically-produced bogie. As the government invests to revive the rail freight sector, the 1 400 wagons that will be required over the next 10 years represent 'an enormous opportunity', according to FM Director Santiago Rodríguez.