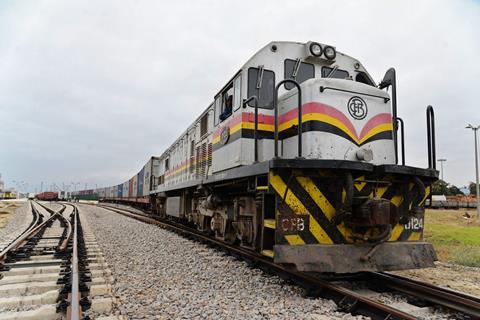 ANGOLA: The Ministry of Transport has announced the award of a 30-year concession for operation of rail freight and logistics services in the Lobito Corridor to a consortium of Trafigura, Mota-Engil Engenharia e Construção Africa and rail operator Vecturis. Formal signing of the concession contract is expected in the next few weeks.
The concession covers the 1 067 mm gauge Benguela Railway stretching for 1 344 km between Lobito and the border with the Democratic Republic of Congo near Luau in eastern Angola.
There is an option for a 20-year extension, subject to the concessionaire building a branch off the Benguela Railway from Luacano in Moxico province to Jimbe on the Zambian border.
Traffic
The Angolan government forecasts traffic to total 1∙7 million tonnes a year by the fifth year of the concession, rising to 3 million tonnes after 10 years and 5 million after 20 years.
Worth around US$100m, the concession is expected to generate rental fees for the Angolan government of nearly US$320m in the first 10 years, rising to US$919m in the final decade. The concessionaire has committed to invest US$256m in infrastructure and US$73∙4m in rolling stock and other equipment, plus US$4∙3m in other activities. The investment will be aimed primarily at improving capacity and safety in the Corridor.
The concessionaire will be responsible for operation, management and maintenance of the rail infrastructure for freight transport, including minerals from the Copperbelt region as well as liquids and gas. Passenger services along the route are expected to remain in the hands of Caminho de Ferro de Benguela.
There are hopes that the route will attract exports of copper, cobalt and other metals which are currently shipped from the Copperbelt to Dar es Salaam in Tanzania, Durban in South Africa and Beira in Mozambique. As the Lobito Corridor will offer shorter journey times than the other routes, the consortium believes it has the potential to become the third most important freight corridor in the SADC region by 2050.
The transport ministry believes that award of the concession will lead to an increase in GDP as well as a range of benefits including industrial and agricultural development with job creation opportunities. Small businesses are expected to be attracted to the Corridor thanks to competitive rates offered by rail transport.
Two bids
Bids for the concession contract were submitted by two groups after a public tender was called in September 2021. Both bids included 'irregularities' but were accepted for assessment by the ministry's Bid Evaluation Commission.
The losing group was formed of Chinese company CITIC in partnership with Sinotrans and China Railway 20 Bureau Group which had been involved in reconstruction of some sections of the Benguela Railway.
The winning consortium is owned 49∙5% each by Trafigura and Mota-Engil, with the remaining 1% owned by Vecturis, which is based at Limal in Belgium.