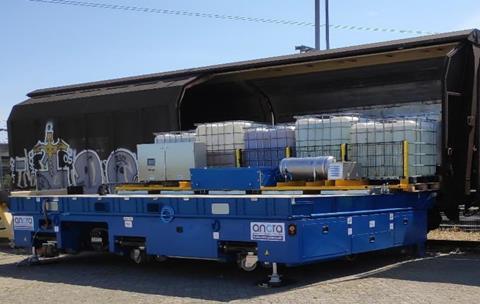 BELGIUM: A prototype automated system for loading pallets onto railway wagons and a concept for a multimodal chemical logistics hub in the Port of Antwerpen were presented by freight operator Lineas and Belgian chemical industry association Essenscia on September 15.
The initiatives have been developed under the EU-funded LessThanWagonLoad project which aims to facilitate modal shift from road to rail in the chemical sector. This has been undertaken by an industry consortium comprising Lineas, Essenscia, EcoRes and Trafuco of Belgium; Ancra and TU Delft of the Netherlands; TransCare and VTG of Germany; ISC of Italy; and ZOS and the Technical University of Košice from Slovakia.
The project looked at developing a multimodal freight village to serve Antwerpen's chemical cluster, with the aim of reducing the cost of rail freight and barriers to the use of rail.
The site would provide added-value services such as cross-docking pallet warehouses, repair and picking services, advanced cleaning services for chemical wagons, lorries and tank containers, and improved rail connections combing both conventional and intermodal shipments.
Essenscia Managing Director Yves Verschueren said the chemical sector had been making efforts towards modal shift for several years, and less than 30% of transport volumes in the sector were by road. Making further use of rail is 'not so much a question of infrastructure or investment, but mainly about a different mindset facilitating collaboration and digitisation', he said.
Automated pallet loading
Inspired by automated lorry loading equipment, the prototype Automated Wagon Loading System can load 15 separate pallets onto a single wagon. This is intended to help support the transport by rail of shipments of less than a full container or wagon load, which currently go by road.
'If we want to convince customers to shift from road to rail, we have to make it as easy as possible', said Lineas CEO Geert Pauwels. 'Already our Green Xpress Network is allowing customers to get on rail starting from a single container or wagon. With the AWLS technology, we are further decreasing this threshold to even smaller loads.'
Freight masterplan needed
On behalf of the Belgian Rail Freight Forum, Pauwels called for collaboration between industry and politicians to develop an 'ambitious' rail freight masterplan for country. Referring to similar plans in neighbouring countries, he said innovation within the rail freight sector alone would not be enough to achieve modal shift.
'There is no time for half-hearted plans or lukewarm ideas', he said. 'We need to be bold and make it happen'.