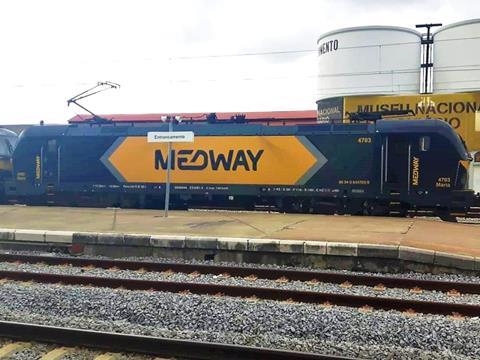 PORTUGAL: Private freight operator Medway is planning to invest €25m in a new intermodal terminal at Famalicão. The subsidiary of shipping line MSC Group hopes that construction can begin next year, once Famalicão municipality and infrastructure manager Infraestruturas de Portugal have given final sign-off.
According to Medway President Carlos Fernandes, Famalicão was chosen due to the potential to generate traffic from several large businesses located in the area, including Continental, Mabor and Leica. The terminal is also intended to serve an large industrial zone at nearby Ribeirão.
Other growth plans for next year include reinstatement after several years of the AutoEuropa automotive train between the large Volkswagen car plant of the same name, located south of Lisboa, and destinations in Germany. This will use the pan-European Atlantic Corridor through Spain and France and is intended to ensure that the car plant can use rail as the primary mode both to receive components and deliver finished vehicles.
Three years after MSC acquired the formerly state-owned CP Carga, Fernandes reports that the business is close to breaking even. Running 15 trains per day, Medway has a 90% share of the Portuguese rail freight market, with Takargo accounting for the rest. However, Medway now has a 25% share of the wider Iberian rail freight market, having gained share since launching intermodal trains in Spain last year, when it began serving the Merida terminal east of Badajoz, which had been out of use since 2015. This is now also being served by RENFE.
Earlier this year Medway became a member of the European Rail Freight Association, which represents new entrants and private operators.