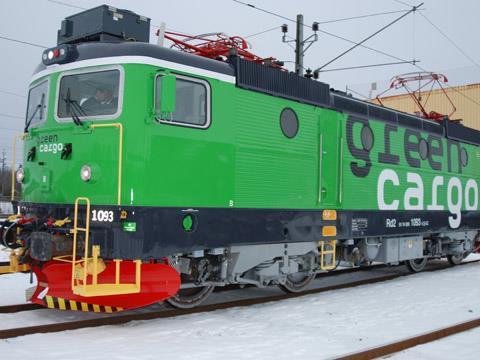 SWEDEN: The first two of 42 Class Rc electric locomotives being refurbished by Bombardier Transportation's Västerås plant were handed back to Green Cargo on November 22. Driver training is set to begin by the start of December, with the modernised locomotives initially deployed on Göteborgs - Nässjö container trains.
Green Cargo says the SKr1·1bn refurbishment programme is its biggest investment to date. The locomotives date from the late 1960s, and following the refurbishment are being reclassified as Class Rd. They are gaining GPS, anti-slip technology to deal with fallen leaves and equipment for multiple-working with other locomotive types.
Following consultation with drivers the cabs are being upgraded to reduce vibration, and fitted with new seats and lighting. Diagnostic information is now available on screens in the cabs to reduce the need to enter the equipment space.