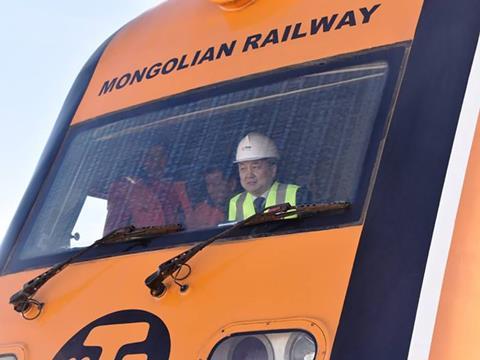 MONGOLIA: Parliamentary Speaker Zandakhuu Enkhbold has officially opened a 33·4 km rail connection to the Tumurtei iron ore mine development, which is around 200 km north of Ulaanbaatar. The line will be used to transport ore to the Darkhan Metallurgical Plant, with traffic expected to grow from an initial 1 mtpa to 10 mtpa in the future.
The line was funded and built by mining company QSC under a concession agreement, and then transferred to state-owned Mongolian Railway. Construction was undertaken by Peak Development, Khutul Cement, Maximal and railway operator Ulaanbaatar Railway.
Speaking at the opening ceremony on April 3, Enkhbold said he hoped that the new infrastructure would support the growth of trade in the area, and encourage people to live there.