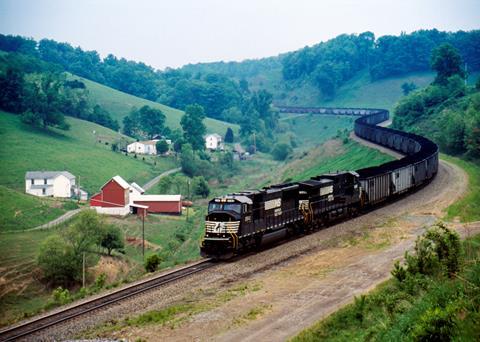 USA: Norfolk Southern reported on July 20 that it had completed a $16·2m programme of track, bridge, and signalling improvements on its Monongahela Valley routes in southwestern Pennsylvania during an eight-day blockade.
Serving five mines that shipped 37·5 million tonnes of coal last year, the route normally carries around 30 trains a day. Coal is shipped to power generators and industrial plants across the Northeast and Midwest regions.
NS said that for many years it had tried to co-ordinate renewals and maintenance with the coal miners' annual summer break in early July. This year the railroad deployed more than 400 staff, four works trains and 95 large machines during the week of July 3 – 10 to lay 47 km of new rail, tamp level or line 111 km of track and replace three bridge decks.
Noting that the region's coal industry is 'vital' to jobs and energy security, NS Vice President, Engineering, Tim Drake said 'it's essential that we maintain and improve our track infrastructure to provide solid and dependable service'. Although consolidating the work into a single blockade required 'an extraordinary amount of planning, organisation', Drake said the operation had been a great success. 'Our employees worked under extreme conditions and hot weather and did it safely'.
NS estimates that under normal operating conditions, the work would have taken around three months to complete, causing significant disruption to regular services.