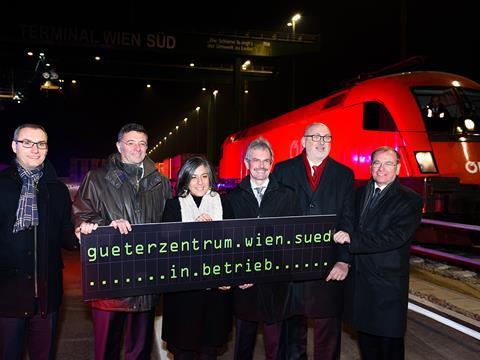 AUSTRIA: Speaking at an event to mark the opening of the Wien Süd Freight Centre, Federal Minister for Transport, Innovation & Technology Jörg Leichtfried said on December 5 that 'I want to move as much traffic off the roads and on to rail as soon as possible'. Forecasting that the terminal would in the long term move 'up to 220 000 heavy lorries off the roads', Leichtfried said that it would 'help shift around 60 000 HGV journeys to rail in 2017'.
The €246m facility built by ÖBB Infrastruktur on behalf of the transport ministry covers 55 ha near the industrial zone of Inzersdorf. Located close to the Südstrecke and connected to the Pottendorfer line and the S1 motorway, the terminal is also easily accessible from the Weststrecke and is destined to become a major hub for intermodal traffic heading to and from southern and eastern Europe.
Andreas Matthä, Chairman of the management board of ÖBB Holding, described the terminal as cargo's new 'Grand Central' whose central location was at the confluence of three core network corridors. 'It will be the locus of rail freight in Europe, not only consolidating Austria as a place to do business, but also creating a high-capacity terminal facility in the eastern part of the country', he said.
Rail Cargo Group said that rail already has a 30% share of the Austrian freight market and national policy aims to increase this to 40% in the future.