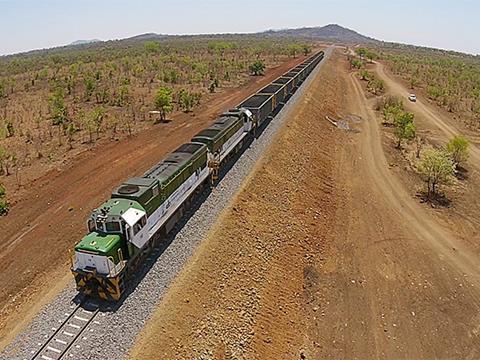 MOZAMBIQUE: Brazilian mining and steel group Vale has signed binding financial contracts which complete the investment structure for the Nacala Logistics Corridor. Announced on November 27, the deal covers US$1·03bn from Japan Bank for International Co-operation, a US$1bn loan insured by Nippon Export & Investment Insurance and a US$400m loan insured by Export Credit Insurance of South Africa Ltd.
The Corridor consists of a 906 km rail link from the Moatize coalfield in Mozambique to a deep-water port at Nacala-a-Velha on the Indian Ocean. From Moatize a new link runs to the border with Malawi at Chapananga and then through Malawi to meet the Central East African Railway network at Nkaya. The line from there to the eastern border at Nayuci was rehabilitated and about 600 km of the existing line to Nacala was upgraded. The first heavy haul coal trains began operation over the route in 2015 and the line was inaugurated on May 12 2017 by Mozambique President Filipe Nyusi in a ceremony at Nacala-a-Velha.
Vale said that the agreement 'completes the investment structure devised to support the ramp-up of the logistics corridor until its full capacity utilisation'.
The facility will be repaid over 14 years with the proceeds generated from the tariff related to the transport of coal and general cargo along the corridor.