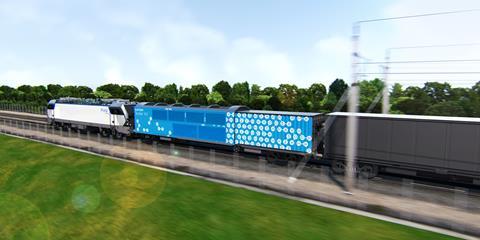 FRANCE: As part of a strategy to decarbonise its supply chain, Nestlé Waters is to use a high-power fuel cell generator wagon to enable electric locomotives to haul trains on non-electrified tracks.
This will be the first application of fuel cell and renewable hydrogen 'last mile' technology being developed by Alstom and Engie under a partnership agreement signed in April.
Under the deal announced on November 22, Nestlé Waters will use the hydrogen tenders to power trains to and from its Vittel mineral water plant in the Vosges. The first trains are expected to begin operating in 2025, on routes to the group's distribution centres such as Arles (600 km) and Montreuil-Bellay (760 km).
This is projected to enable Nestlé Waters to reduce its emissions by around 90% compared to the use of diesel locomotives, saving an estimated 10 000 tonnes of CO2 equivalent per year.
Environmental commitment
Nestlé Waters has been expanding its use of rail in recent years, and now ships around 45% of the output from its Vosges plant by train. In 2018 the group joined the FRET21 initiative and signed an agreement with the Agence de la Transition Ecologique to reduce the carbon footprint of its transport flows in France.
The company launched a regular train between its Perrier bottling plant in Vergèze and the port of Fos-sur-Mer in 2018, replacing an estimated 27 000 lorry trips per year. The following year it introduced a Stadler EuroDual electro-diesel locomotive to reduce the need for diesel operation on electrified routes, saving an estimated 1 920 tonnes of CO2 equivalent per year.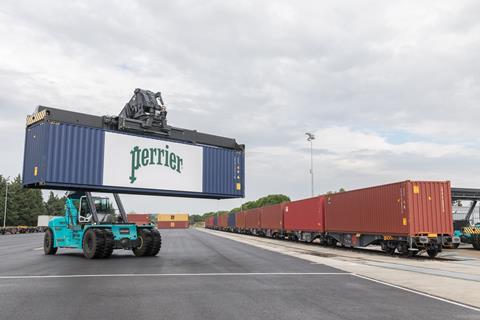 The Glass Train launched in 2021 to support the movement of returnable Vittel and San Pellegrino glass bottles by train, removed another 1 000 lorry movements per year.
In 2020 Nestlé Waters set a target of further reducing its transport-related CO2 emissions in France by 13% by the end of 2022. The group estimates that its initiatives since then have already reduced its carbon emissions by 11%, or about 5 900 tonnes of CO2 by the end of 2021, contributing to Nestlé Group's ambition of reaching net zero greenhouse gas emissions at a global level by 2050.
'We are constantly looking for efficient solutions to reduce the carbon impact of our supply chain', said Sophie Dubois, CEO of Nestlé Waters in France. 'This project represents a significant investment by our railway team to find innovative solutions to answer the climate and environmental challenge. This collaboration with Alstom and Engie will accelerate the development of a decarbonised supply chain.'
'Alstom has been a pioneer in hydrogen trains by developing the first hydrogen train in commercial operation worldwide', emphasised the company's Chief Strategy Officer Marc Granger. 'Our ambition is to accelerate the adoption of hydrogen in the rail industry.'
He added that a freight locomotive powered by renewable hydrogen would be more environmentally friendly and generate less noise than diesel, helping to develop the modal share of rail freight 'by offering an end-to-end electric solution'.