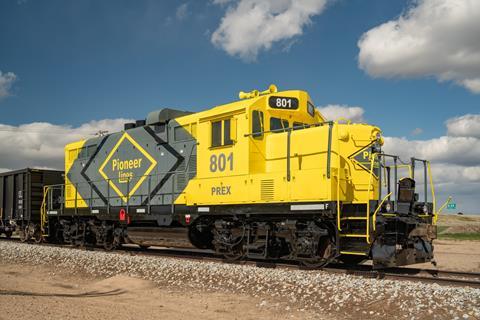 USA: Denver-based short line holding company Pioneer Railcorp has changed its name to Pioneer Lines, in support of its vision for national expansion.
Founded in 1986, Pioneer Lines now operates 15 railways in 12 states, and provides related services such as transloading, switching and storage.
'The new name reflects the modernisation of the company and our efforts to broaden our business objectives', said CEO Alex Yeros. 'As a company with its roots in rail freight, our team is proud of the role we have played over the last three decades in bringing economic vitality to the local communities in which we operate. We are focused on growing our presence across the US by leveraging the deep rail and real estate expertise of our team to provide new and existing customers with additional connections to domestic and global markets.'
The new name comes two years after Pioneer Railcorp was acquired by BRX Transportation Holdings, which put together an executive team of rail, property and trade experts to refresh the company with new management processes, efficiency metrics and an improved understanding of customer needs. The company said this has resulted in considerable growth, adding a new freight customer per month on average.
The latest addition to the senior leadership team is Tom Hurlbut, who joined from Norfolk Southern this month to succeed the retiring Carrie Genualdi as Chief Financial Officer. Nate Henderson's role has also been expanded to include Chief Commercial Officer in addition to corporate development.