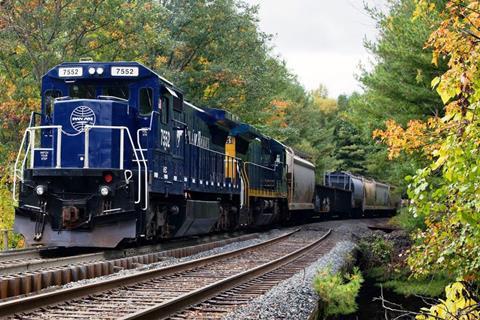 USA: New England regional railroad Pan Am Railways has been put up for sale, with the private owners including majority shareholder Tim Mellon appointing BMO Financial Group to assist with the process.
Operating a 2 750 km network, including haulage rights, stretching from Saint John, New Brunswick to the Albany area of New York state, PAR describes itself as 'North America's largest regional railroad system'. The network was assembled from 1981 by Mellon's Guilford Transportation Industries, which purchased the former Maine Central and Boston & Maine railroads. The group was rebranded as Pan Am Railways in 2006, following GTI's acquisition of Pan Am Airways in 1998.
The former B&M main line between Mechanicville, NY, and Ayer, Massachusetts, is now owned and managed by the Pan Am Southern joint venture between PAR and Norfolk Southern which was founded in 2008 to modernise the Patriot Corridor and give NS access to the Boston area.
The joint venture now manages around 700 route-km in total, including lines to Vermont and Connecticut which are operated by PAR subsidiary Springfield Terminal. As well as NS, PAR has connections with Canadian National, Canadian Pacific and CSX, plus 14 other regional railroads and short lines.
In recent years there has been growing interest in short line and regional railroads from investment groups and infrastructure funds, with a number of railways changing hands. Last month Canadian Pacific completed its acquisition of Central Montreal & Quebec from Fortress Transportation & Infrastructure Investors, giving it direct access to New England markets and ports on the Atlantic coast.
Industry observers suggest that there could be considerable interest in Pan Am Railways. One potential buyer could be shortline holding group Genesee & Wyoming, which already operates four railways in the region and was itself recently acquired by Brookfield and GIC. Another possibility being mooted is that Norfolk Southern might look to buy out its joint venture partner, although the Class I is thought unlikely to want PAR's other routes.