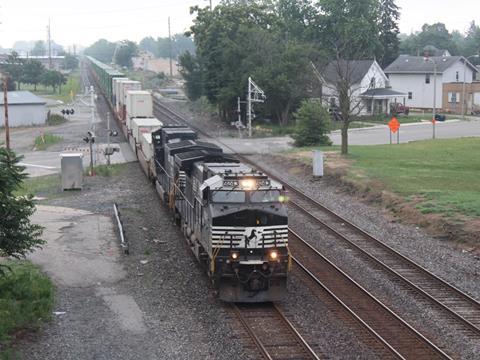 USA: Norfolk Southern has announced plans to invest $1·8bn in capital projects during 2018, as it pursues the objectives set out in its Strategic Plan adopted in 2016.
With a focus on improving service and operational efficiency while maintaining safety, the capital spending will be broadly in line with the $1·7bn invested in 2017. That programme included longer passing loops and terminal expansion, as well as infrastructure renewal projects. One of the biggest schemes completed last year was the replacement Portageville bridge in New York's Southern Tier region; funded through a public-private partnership agreement. NS says it attracted new business during the year by assisting 75 industries to locate or expand their operations along its network, representing a customer investment of more than $1bn.
'Norfolk Southern is open for growth, and we are optimistic as we head into 2018 that the current economic environment will provide an opportunity for continuing growth', said Chairman, President & CEO James Squires. 'The hard work and dedication of our employees in executing our strategic plan are clearly evident as we continue to achieve record results and deliver on the commitments we made to our shareholders. We remain steadfast in our commitment to deliver on the goals in our Strategic Plan, of which positioning ourselves for growth is a key element. We are laser-focused on execution of our strategy and are confident that we can achieve our targets by 2020 or sooner.'
Reporting its full-year 2017 results on January 24, NS recorded a 7% increase in operating revenues to $10·6bn, reflecting a 5% increase in traffic volumes driven by growth in the coal and intermodal markets. Operating expenses increased by 2% to $7bn, although higher fuel prices and incentive payments were partially offset by efficiency savings and a $151m tax reform benefit. Operating income for the year totalled $3·58bn, or $3·44bn net of the tax reform benefit. This was a 12% increase over 2016, bringing the adjusted operating ratio to 67·4, an improvement of 150 basis points on the previous year.