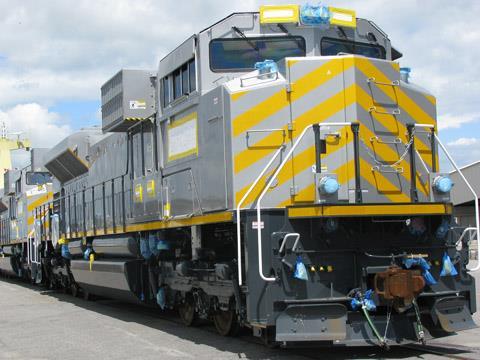 SAUDI ARABIA: The 2 400 km North-South Railway being developed by Saudi Railway Co is on course for a formal opening for mineral operations in July, with full operation scheduled for July 2013 and the start of passenger services in July 2014.
Limited test trains have been running since May 2011, pending completion of technical equipment.
Thales is currently installing ETCS Level 2 to control operations, providing continuous supervision over long distances and through remote areas. Thales Programme Director Torsten Thake told the ERTMS World Congress in Stockholm that the first trials with the train control system had been successfully completed. The project includes 100 GSM-R masts, 3 Radio Block Centres and 1600 Eurobalises, along with 15 interlockings, 781 point machines and 476 sets of axle counters.
Staff training is now in progress as SAR ramps up towards full operation; the mineral line is being designed to carry 5·2 million tonnes of phosphate and 4 million tonnes of bauxite per year, with heavy haul trains of 165 wagons having a total length of 2 865 m.
Although the line has been designed for 250 km/h operation, freight trains will run at up to 110 km/h and passenger trains will initially be limited to 200 km/h.
The North-South Railway includes 1 395 km of mineral railway and 995 km of passenger routes. It will serve six stations, 10 intermodal terminals and three main mine yard complexes. The single track main line has 17 passing loops of 3·8 km and four double-track sections 8·4 km long.