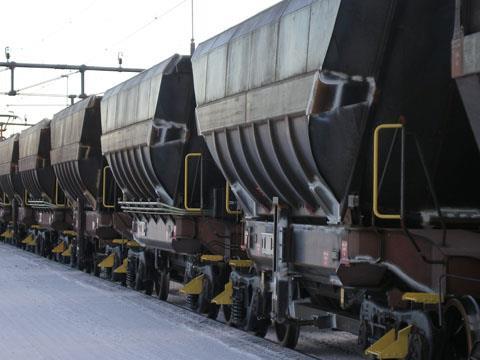 EUROPE: Northland Resources plans to begin shipments of iron ore concentrate from its Kaunisvaara plant in Sweden to the Norwegian port of Narvik in the first quarter of 2013, having been allocated train paths on the Malmbanan by Swedish transport authority Transportstyrelsen. Four paths per day will be available from December 8 this year.
Traffic is expected to grow from 1⋅3 million tonnes in 2013 to over 4 million tonnes by 2015. Ore will move 150 km by road from Kaunisvaara to a transloading facility at Pitkäjärvi, where Savage Services will be responsible for onward rail movements over the 226 km to Narvik, using a fleet of custom-designed ore wagons. Traction will be provided by Green Cargo.
'With the allocation of the train slots, all three pieces of the logistics chain — trucking, railway and shipping — are now in place to enable a seamless system that will bring optimal value to Northland and all its stakeholders', said Savage Services General Manager Allan Murphy.